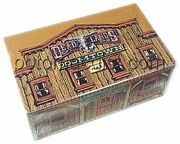 Episodes 1 and 2 of Doomtown were released simultaneously in the summer of 1998 by the Five Rings Publishing Group. Unlike later episodes which would each introduce just one new outfit, the initial release included a total of three outfits in two episodes.
The starter decks available in this initial release were the Blackjacks, the Law Dogs and the Collegium. Notable features introduced in this release include the mad scientist trait and gadget goods.
Ad blocker interference detected!
Wikia is a free-to-use site that makes money from advertising. We have a modified experience for viewers using ad blockers

Wikia is not accessible if you've made further modifications. Remove the custom ad blocker rule(s) and the page will load as expected.